What is the Difference between Welding, Soldering and Brazing?
Welding, soldering, and brazing are all techniques to join two or more pieces of metal and in some cases, other materials. They are also techniques for filling gaps in metal parts. So, how do you determine which technique to use? That decision depends on the material, desired strength, and application.
The main difference between welding and soldering is melting. In soldering, metal producers heat up the metal to be bonded but never soften them. In welding, metal producers melt the base metal.
Soldering is most just like brazing since it uses capillary action to flow the metal into the joint untill it cools and hardens.
Welding
The purpose of welding is to create a very strong bond between two pieces of metal that can withstand all kinds of stresses and strains, such as a car body or aircraft fuselage. What goes into welding?
Two metals must be similar: To weld two metals together, they must be similar. For example, you can't weld copper to steel.
High temperature: The temperature needed to weld two metals together must be very high so they melt and join.
Filler materials: You often use a filler material in welding which is an extra piece of metal that seals any gaps.
Strength: If the welding job was properly done, the weld should be as strong as the surrounding, "unwelded" metal. Too much heat, for instance, can change the metal's characteristics and weaken the weld.
Different welding techniques: There are various welding techniques, depending on what metal you work on. In a welding program, you can learn which technique to use with what kind of metal. Different welding techniques have different heat sources, like oxyacetylene gas, electrodes, lasers, or ultrasonics.
Aluminum welding presents many more challenges than welding steel or other metals when learning how to weld aluminum. You can find out a guide to aluminum welding or how to weld pipes when they are must-have skills for anyone who takes their welding seriously.
Soldering
Soldering may look similar to welding, but it has quite a different purpose. A solder is rather soft and normally comes in tubes and reels. A solder is used in electronic devices where it allows the components to connect with each other electronically. What goes into soldering?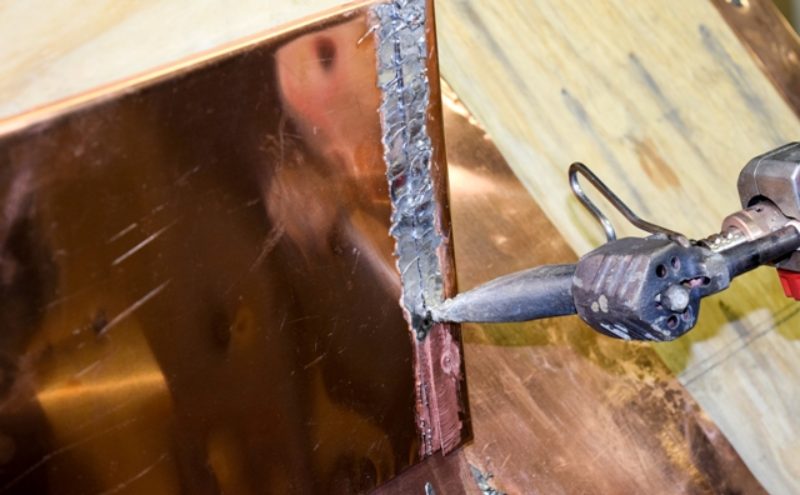 Low temperature: Unlike welding, soldering uses a low temperature to join metals.
Filler materials: Soldering is done with fillers that melt at below 840 °F (450°C).
Different metals can be soldered: Metals that can be soldered include gold, silver, copper, brass, and iron. The bond created when the melted soldered material solidifies.
Not as strong as welding or brazing. A soldered bond is not as strong as a welded or brazed one because it is not a mechanical connection. If soldering wasn't done properly, the pieces won't conduct electricity properly.
Flux is used: Just as in welding and brazing, flux is used to clean metal surfaces, so that the solder can flow over the pieces that will be joined.
If you want to clearly understand what sheet metal fabrication is, you can check out our article: "Brief Description & History of Sheet Metal Fabrication"
Brazing
Brazing is akin to soldering in that it also uses filler for joining two metals, albeit a high-temperature one. Similar to welding, brazing creates a mechanical connection between to metal parts. What goes into brazing?

Joining metals by melting filler: Brazing consists of heating and melting a filler alloy. Once the filler solidifies, the metal pieces are joined.
Filler materials: The filler alloy must have a lower melting temperature than the metal pieces.
Dissimilar metals: Brazing allows for the joining of different metals like aluminum, silver, copper, gold, and nickel.
Flux is often used: Liquid flux material promotes wetting of the metal parts, which lets the filler flow over them, so they can be joined more easily.
Strength: While properly brazed joins can be stronger than the individual pieces, they are not as strong as welded joints.
Summary
Welding, soldering, and brazing are used for different jobs. Depending on the work you do, you have to consider factors like metal type, desired strength, and ultimate purpose to determine how to join two or more pieces of metal. With sufficient practice, you can master each technique well.
1. Strength
Welding joints are the strongest joints used to bear the load. Strength of the welded portion of joint is usually more than the strength of base metal.
Soldering joints are weakest joints out of three. Not meant to bear the load. Use to make electrical contacts generally.
Brazing joints are weaker than welding joints but stronger than soldering joints. This can be used to bear the load up to some extent.
2. Temperature
Welding: Temperature required is 3800°C in welding joints.
Soldering: Temperature requirement is up to 450°C in soldering joints.
Brazing: Temperature may go to 600°C in brazing joints.
3. Heating of Work Pieces
Welding: To join work pieces need to be heated till their melting point.
Soldering: Heating of the work pieces is not required.
Brazing: Work pieces are heated but below their melting point.
4. Change in Mechanical Properties
Welding: Mechanical properties of base metal may change at the joint due to heating and cooling.
Soldering: No change in mechanical properties after joining.
Brazing: May change in mechanical properties of joint but it is almost negligible.
5. Heat Treament
Welding: Heat treatment is generally required to eliminate undesirable effects of welding.
Soldering: No heat treatment is required.
Brazing: No heat treatment is required after brazing.
6. Preheating of Workpiece
Welding: No preheating of workpiece is required before welding as it is carried out at high temperature.
Soldering: Preheating of workpieces before soldering is good for making good quality joint.
Brazing: Preheating is desirable to make strong joint as brazing is carried out at relatively low temperature.
I hope our article will give you a fundamental base from which you can achieve the latest knowledge about sheet metal fabrication field.