What is Welding?
Welding is a fabrication or sculptural process that joins materials, usually metals or thermoplastics, by using high heat to melt the parts together and allowing them to cool causing fusion. Welding is distinct from lower temperature metal-joining techniques such as brazing and soldering, which do not melt the base metal.
In addition to melting the base metal, a filler material is typically added to the joint to form a pool of molten material (the weld pool) that cools to form a joint that, based on weld configuration (butt, full penetration, fillet, etc.), can be stronger than the base material (parent metal). Pressure may also be used in conjunction with heat, or by itself, to produce a weld. Welding also requires a form of shield to protect the filler metals or melted metals from being contaminated or oxidized.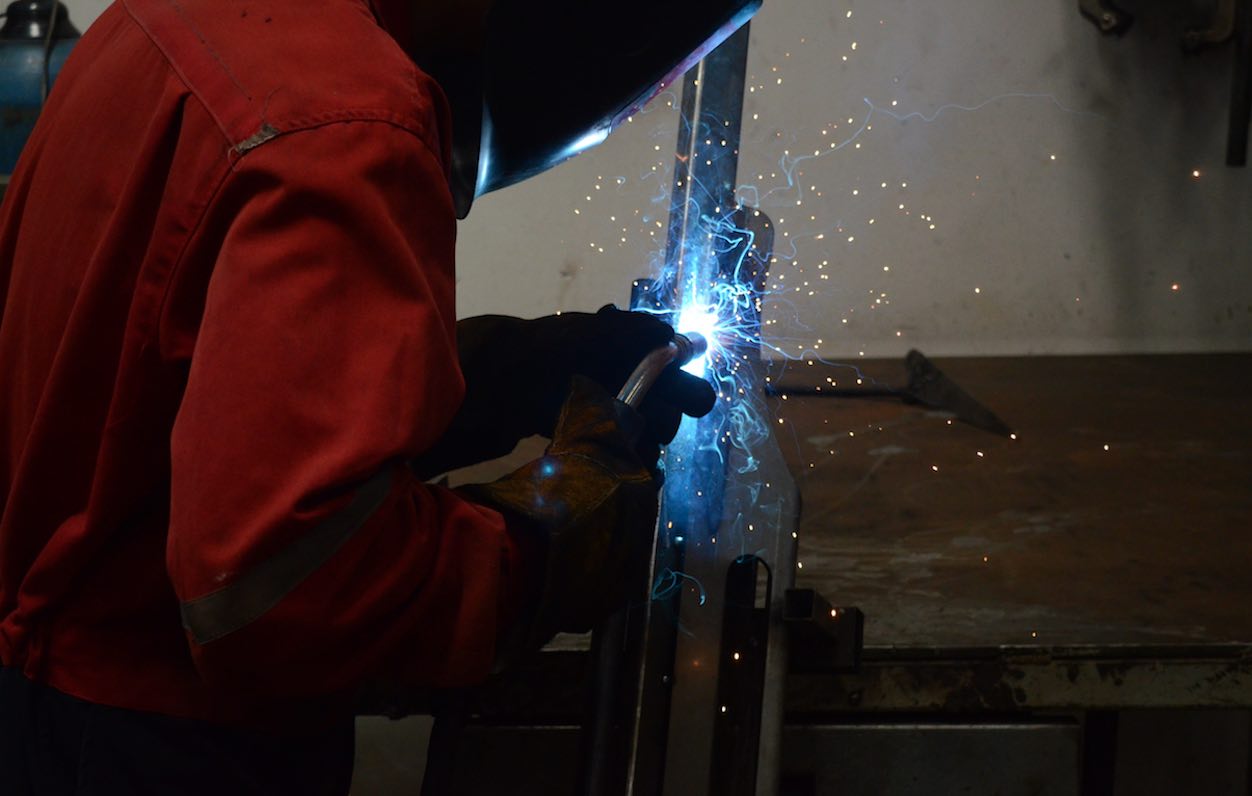 Many different energy sources can be used for welding, including a gas flame (chemical), an electric arc (electrical), a laser, an electron beam, friction, and ultrasound. While often an industrial process, welding may be performed in many different environments, including in open air, underwater, and in outer space. Welding is a hazardous undertaking and precautions are required to avoid burns, electric shock, vision damage, inhalation of poisonous gases and fumes, and exposure to intense ultraviolet radiation.
Just getting started? Begin your knowledge journey with article: "Brief description of Metal Fabrication"
Types of Welding
MIG Welding
MIG welding is one of the easier types of welding for beginners to learn. MIG welding is actually two different types of welding. The first use bare wire and the second flux core. Bare wire MIG welding can be used to join thin pieces of metal together. Flux core MIG welding can be used outdoors because it does not require a flow meter or gas supply. MIG welding is usually the welding of choice for DIY enthusiasts and hobby welders who don't have the money to spend on expensive equipment.
Stick Welding
Stick welding, also known as Shielded Metal Arc Welding , is doing it the old fashioned way. Stick welding is a bit harder to master than MIG welding, but you can pick up a stick welding equipment for very little if you want to have a go at home. Stick welding uses a stick electrode welding rod.
TIG Welding
TIG welding is extremely versatile, but it is also one of the more difficult welding techniques to learn and Lincoln Electric TIG welders are skilled individuals. Two hands are needed for TIG welding. One hand feeds the rod whilst the other holds a TIG torch. This torch creates the heat and arc, which are used to weld most conventional metals, including aluminum, steel, nickel alloys, copper alloys, cobalt and titanium.
Plasma Arc Welding
Plasma arc welding is a precision technique and is commonly used in aerospace applications where the metal thickness is 0.015 of an inch. One example of such an application would be on an engine blade or an air seal. Plasma arc welding is very similar in technique to TIG welding, but the electrode is recessed and the ionizing gases inside the arc are used to create heat.
Electron Beam and Laser Welding
Electron beam and laser welding are extremely precise, high energy welding techniques.
Gas Welding
Gas welding is rarely used anymore and has been largely superseded by TIG welding. Gas welding kits require oxygen and acetylene and are very portable. They are still sometimes used to weld bits of car exhaust back together.
Aluminum welding presents many more challenges than welding steel or other metals when learning how to weld aluminum. Click here to find out a guide to aluminum welding when it is a must-have skill for anyone who takes their welding seriously.
Welding Terminologies and Abbreviations
Welding Terminologies
MIG – 'MIG' stands for 'Metal Inert Gas' welding, but you might also see it referred to as 'GMAW' ('Gas Metal Arc Welding'), or 'MAG' ('Metal Active Gas' welding). This is one of the most common welding techniques – and one of the easiest to learn – so it's great for both beginners and large-scale production.
TIG – 'TIG' stands for 'Tungsten Inert Gas' welding, which is the same as 'GTAW' ('Gas Tungsten Arc Welding'). On paper, TIG seems quite similar to MIG, except that the electrode is non-consumable and the shielding gas typically has an argon-helium composition.
FCAW – 'FCAW' stands for 'Flux-Cored Arc Welding.' This process uses different equipment to MIG and TIG welding because although the electrode is a continuously-fed consumable one (like with MIG), it has a flux at its core. This flux eliminates the need for separate shielding gas, which means that it's suitable for outdoor projects and windy conditions.
SMAW – 'SMAW' stands for 'Shielded Metal Arc Welding,' but you might commonly hear it being referred to as 'stick welding.' Like FCAW, SMAW uses flux to protect the weld pool from damaging atmospheric gases – the only difference is that in SMAW the flux coats the electrode, whereas with FCAW it's at the center
GMAW – 'GMAW' stands for 'Gas Metal Arc Welding,' which is a term that encompasses both MIG and MAG welding. All three of these processes use the same method of forming an electric arc between an electrode and the metal. This heats the metal and causes it to melt, creating a joint which fuses the metal pieces together.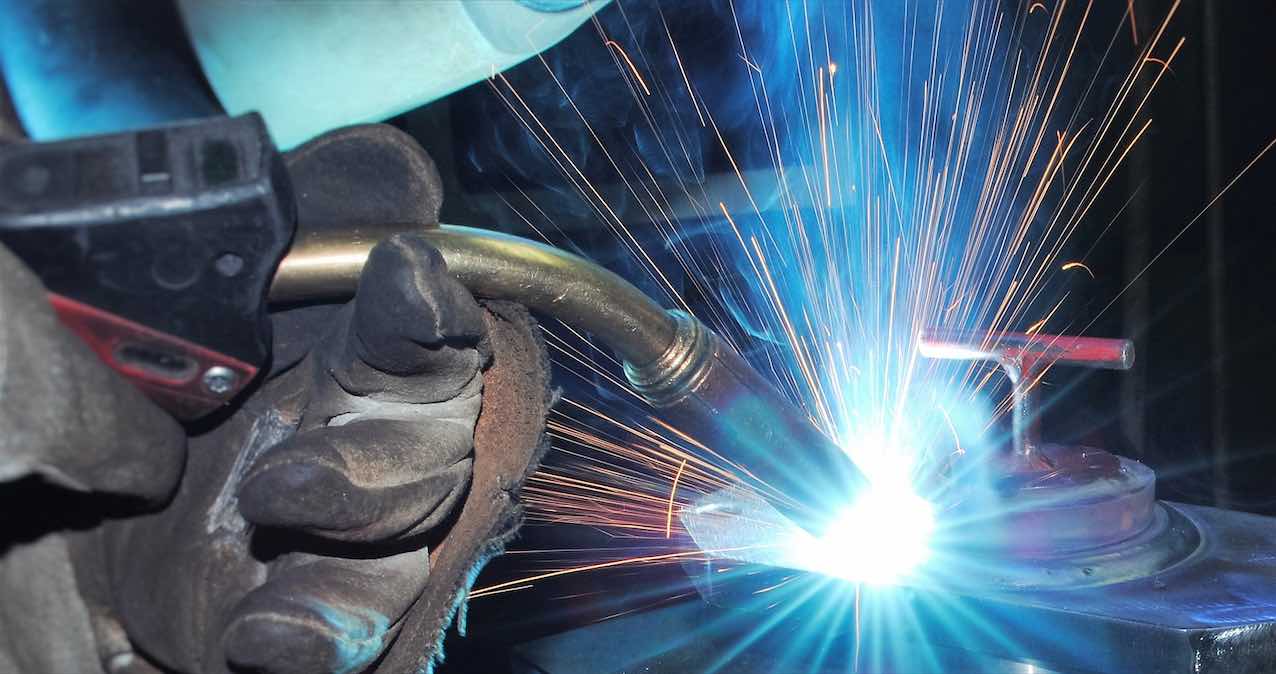 Welding Abbreviations
There is a long list of other abbreviations which you might come across during your welding career. Here is a small selection of some of the most common:
AC – Alternating Current
AWS – American Welding Society
BMAW – Bare Metal Arc Welding
BS – British Standards
BW – Braze Welding
GMAC – Gas Metal Arc Cutting
DC – Direct Current
DCEN – Direct Current Electrode Negative
DCEP – Direct Current Electrode Positive
PAW – Plasma Arc Welding
RSW – Resistance Spot Welding
SMAC – Shielded Metal Arc Cutting
STUD – Stud Welding
WFS – Wire Feed Speed
By now, you should be able to see that welding is different from brazing and soldering, which do not melt the base metal. Additionally, there are many types of welding that present more challenges than you imagine. I hope our article will give you a fundamental base from which you can achieve the latest knowledge about sheet metal fabrication field.