Why Can You Get The Right End Mills for Aluminum?
Machining is a delicate art, which means that you're going to need the proper tools for the job. For a hobbyist or professional, making items out of aluminum requires a specialized set of end mills.
An end mill is a type of milling cutter, a cutting tool used in industrial milling applications. It is distinguished from the drill bit in its application, geometry, and manufacture. While a drill bit can only cut in the axial direction, a milling bit can generally cut in all directions, though some cannot cut axially.
End mills are used in milling applications such as profile milling, tracer milling, face milling, and plunging.
If you're looking to find the right end mill for aluminum, you're in the right place. We have found four that should cover the needs of pretty much anyone.
Below are our recommendations for the top 3 best end mills for aluminum fabrication on the market as reviewed by Australian General Engineering Vietnam which is one the precision sheet metal fabricators in Vietnam.
Little Machine Shop Endmill Set, 20 pieces 2 & 4 Flute, TiN coated HSS
Coming with 10 2-flute end mills in a single box and fantastic titanium based coating to keep the friction coefficient to a minimum, this is a fantastic set for nearly anyone. There's also a wide range of different shanks for the individual pieces, meaning that each is sized properly for the width of the bit you'll be using.
While we don't recommend using the 4-flute mills for aluminum, the cost of the entire set would be great even if you only got the ten 2-flutes (see full specs) and you're sure to be happy with this set. Think of it as adding a bit of steel capability for when you need it and you'll see why we're so pleased to present this kit. These are among the best endmills for an aluminum period.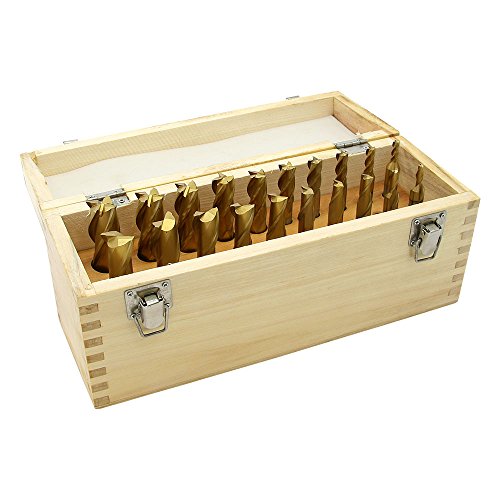 Little Machine Shop End Mill Set, 6 Piece 2 Flute
The beginner doesn't always need a whole range of differing mills and frankly the costs start to get pretty high when you're looking at sets. If you're still in a position where you're working with the absolute basics then something like this six-piece set makes sense.
This particular set comes with six pieces, all of the end mills have shank diameters of 3/8". This end mill has a center cutting type with a right-hand cutting direction. Give it a shot, especially if you only have a couple of specific tasks you need to get done.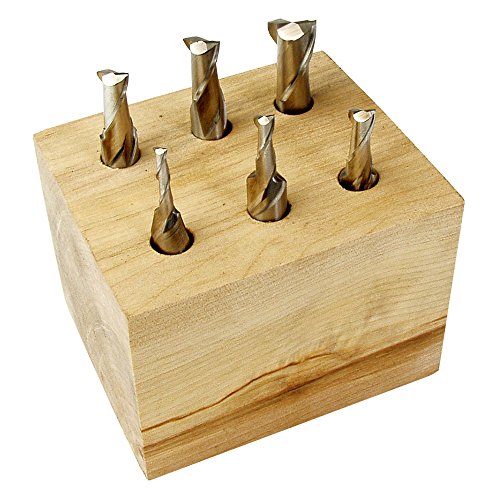 HHIP 2-Flute M2 Ball Nose Endmill Set
While they might seem a little bit expensive at first glance, this is actually a great set of end mills for beginners. Ball nose pieces are quite easy to work with and we strongly recommend working with a 2-flute mill when it comes time to dig into some aluminum.
This set has six pieces which range from 1/8" to ½" (see full specs) and should be able to meet most people's needs. Of course, these are high-speed steel which is a great material but for those looking to use their endmills on a daily basis, these might not make the cut. The hobbyist will find these to be perfect, however, and the wide range of sizes and lower price makes them a great way to learn.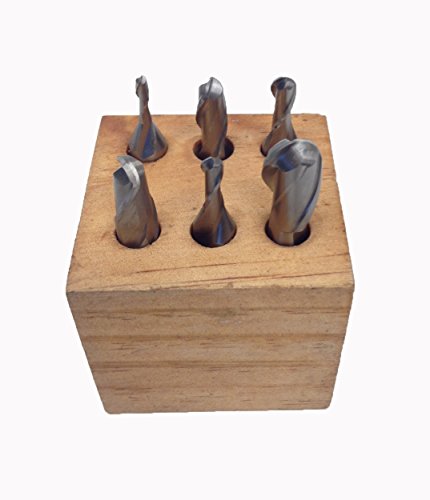 The Ins and Outs of Endmills for Aluminum
Machining relies on slowly taking chips off of the material, although you can end up with a pretty smooth cut at the end of the day. Aluminum breaks differently than steel and has a tendency to clog up when used with the same bits as you'd use to machine steel. This is mostly due to the softness of the material.
When you're picking out your end mills, make sure you check on the following qualities.
Flutes
Fluting affects how quickly a bit cuts while you're running it in your machines. The more flutes, the quicker the cut, which makes it tempting for some people to try and go with the highest number possible.
That's a rookie mistake.
Aluminum is a soft material, which tends to heat quickly and have large chips separate while the end mill is in motion. This means that you want to lower the number and cut a bit slower to ensure a smooth and accurate cut and avoid "tearing" which will leave you with a rough cut.
If you really overdo it, you can also clog the bit.
This means that the ideal aluminum bit is going to come with two or three flutes. Once you get any past that you're running the risk of messing with your cuts, which isn't good for anyone.
Material
The material that your bit is made of is primarily of importance to those who use their machining tools a lot.
High-speed steel is the "inferior" of the two materials but a good quality end mill will still last for a long time in a hobbyist's shop. This steel is designed to withstand the high RPMs of your machines, after all.
Carbide, on the other hand, will stay sharp practically forever and is ideal for professionals. Of course, a single carbide piece might cost as much as an entire set of high-speed steel bits.
Coating
There's also the matter of coating, which is particularly important for high-speed steel tools. Many of the new commercial coatings can reduce friction by a ton, keeping the bit cooler while it runs and decreasing the friction which can cause clogs in a soft material like aluminum.
Keep an eye out for good coatings and you're on the right track.
Our Conclusion
When it comes time for your next machining project, we want to make sure that you have the best endmill for aluminum possible. All of our choices are respectable, of course, but there's a whole world of bits out there to explore once you get into the hobby. Have fun and be safe, but most importantly make sure that you have the right tool for the job. Good luck!
You can be interested in CNC Laser Cutting Process using to cut metal in industrial manufacturing applications here.
Top 10 End Mill Performance Brands
Among those respondents who said their buying criteria was to find the endmills with the best performance regardless of cost, the top brands were:
Harvey Tools
Garr
Onsrud
Niagara
OSG
SGS
YG-1
Accupro
Kennametal
Iscar
I hope our article will give you a fundamental base from which you can achieve the latest knowledge and information about sheet metal fabrication field.