What Is Galvanization?
Galvanization is the process of applying a protective zinc coating to steel or iron in order to prevent premature rust and corrosion. Proponents of galvanized steel, who may use it to construct or repair steel structures, for example, benefit from lower maintenance and repair costs because of its special properties.
Galvanization provides corrosion protection, durability under harsh conditions, a long lifespan, versatility, availability, and sustainability. Without protection, steel will rust due to atmospheric conditions over time. The degree of rust will depend on the environment that the product is in. Rust is an iron oxide (typically a red oxide) which is formed by the reduction and oxidation reaction of iron and oxygen, in the presence of water or air moisture.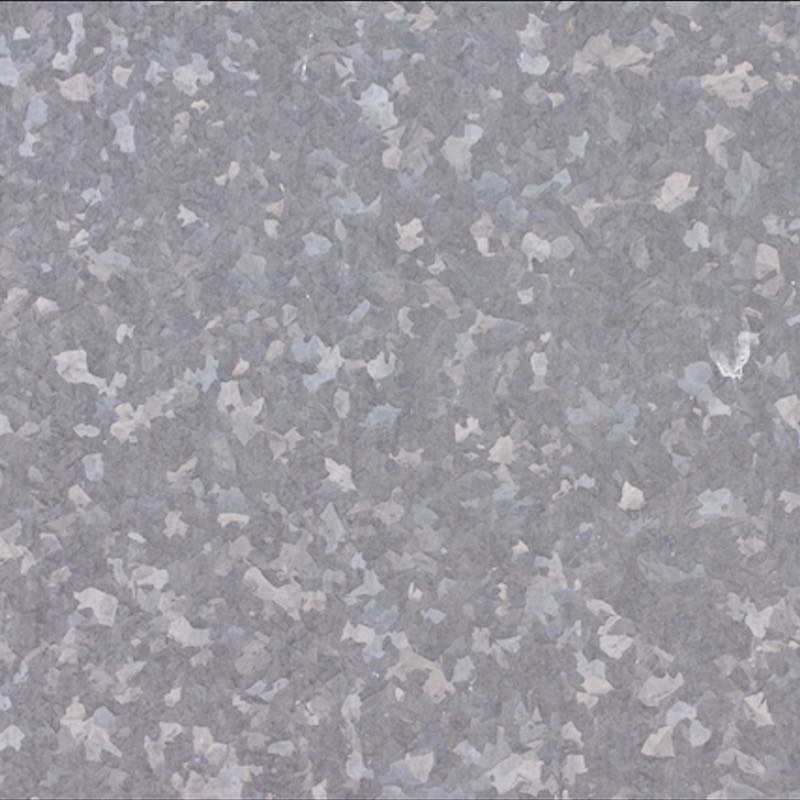 There are protective methods such as painting or plastic coating, but these methods do have drawbacks. When damaged, sections of the steel will become rusty and the protective coating will fall away, making these types of protection non-lasting and unreliable (always needing continued maintenance).
One of the better methods of protecting steel materials against corrosion is through hot-dip galvanization. With hot-dip galvanization, all the surfaces of the material are dipped into, and completely coated with, molten zinc.
Just getting started? Begin your knowledge journey with article: "Three Basic Stages of Metal Fabrication Work"
How Can We Achieve Galvanized Sheet Metal
Hot-Dip Galvanizing
This is the most popular sheet metal technique for galvanization. The process submerges metal parts in a bath of molten zinc to protect the metal and occurs in three different ways:
The zinc coating, when intact, prevents corrosive substances from reaching the underlying steel or iron.
It acts as a sacrificial anode, which is the main component of a galvanic cathodic protection (CP) system used to protect buried or submerged metal from corrosion. This means that if the coating is scratched, the exposed steel or iron will be protected by the remaining zinc.
The zinc protects its base metal by corroding before iron.
Hot-dip galvanizing limits a steel or iron product's exposure to the natural elements, protecting it from corrosion and oxidation. Hot-dip galvanizing has been specified to combat steel corrosion for more than 100 years; however, the specification and use of galvanized steel evolves constantly as new markets emerge. Though corrosion resistance is inherent any time hot-dip galvanizing is utilized, there are a number of other benefits including low initial and life-cycle costs, durability, longevity, availability, versatility, sustainability, and aesthetics that lead to the specification of galvanized steel. This sheet metal technique is also economical, can be performed within minutes, and covers hard-to-reach areas of complex product shapes.
Electrogalvanizing
This process is when a layer of zinc is bonded to stainless steel using electroplating, which is when a fabricator runs a current of electricity through a saline-and-zinc solution with a zinc anode (an electrode through which conventional current flows into a polarized electrical device).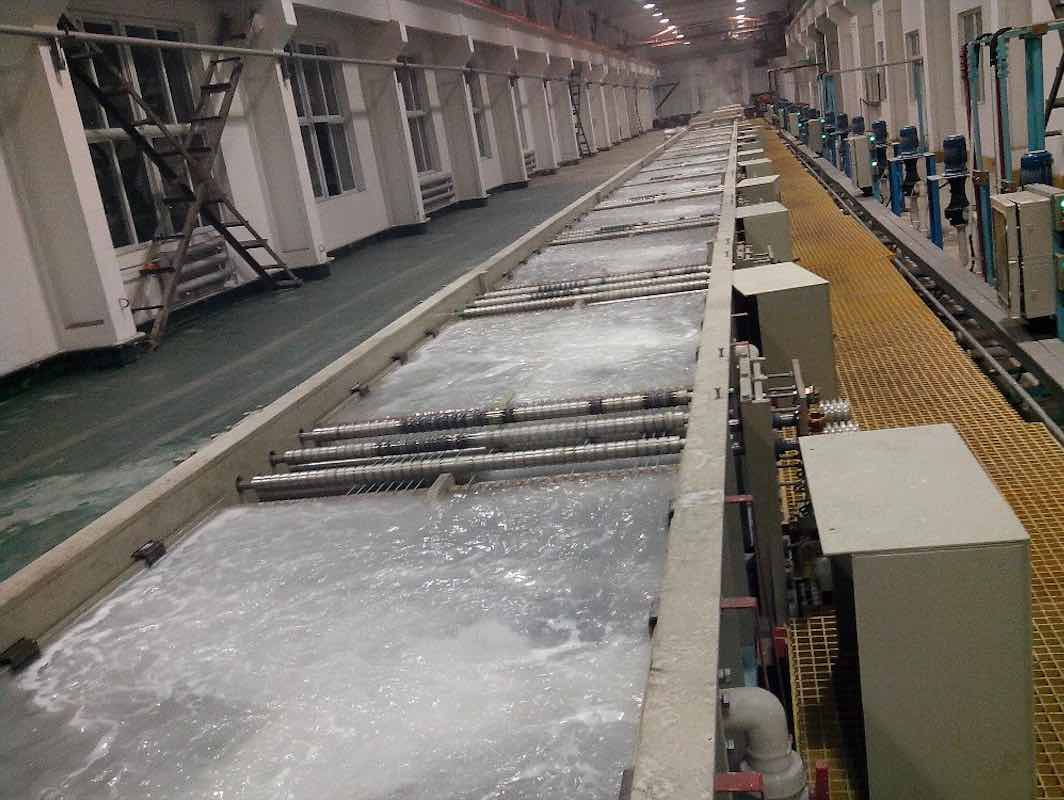 In electrogalvanizing, the polarized electrical device is a steel conductor.
Compared to hot-dip galvanizing, this sheet metal technique offers lower thickness deposits for comparable to increased performance, a broader conversion coating availability for color options, and brighter deposits.
Metallic/thermal spraying
Metallic spraying is the process of covering a sheet metal product with a metallic coating using a spray of molten particles.
According to Corrosionpedia, "a convergence of business leadership, modern digital technology and industry publication experience", fabricators first subject the iron or steel "to a high degree of heat to achieve a molten state. The molten metal is then atomized into small particles and sprayed outward onto a surface.
The molten particles [don't] heat the surface because the heat of a particle is proportional to its size. On contact, the particle flattens out and adheres to the surface as it hardens."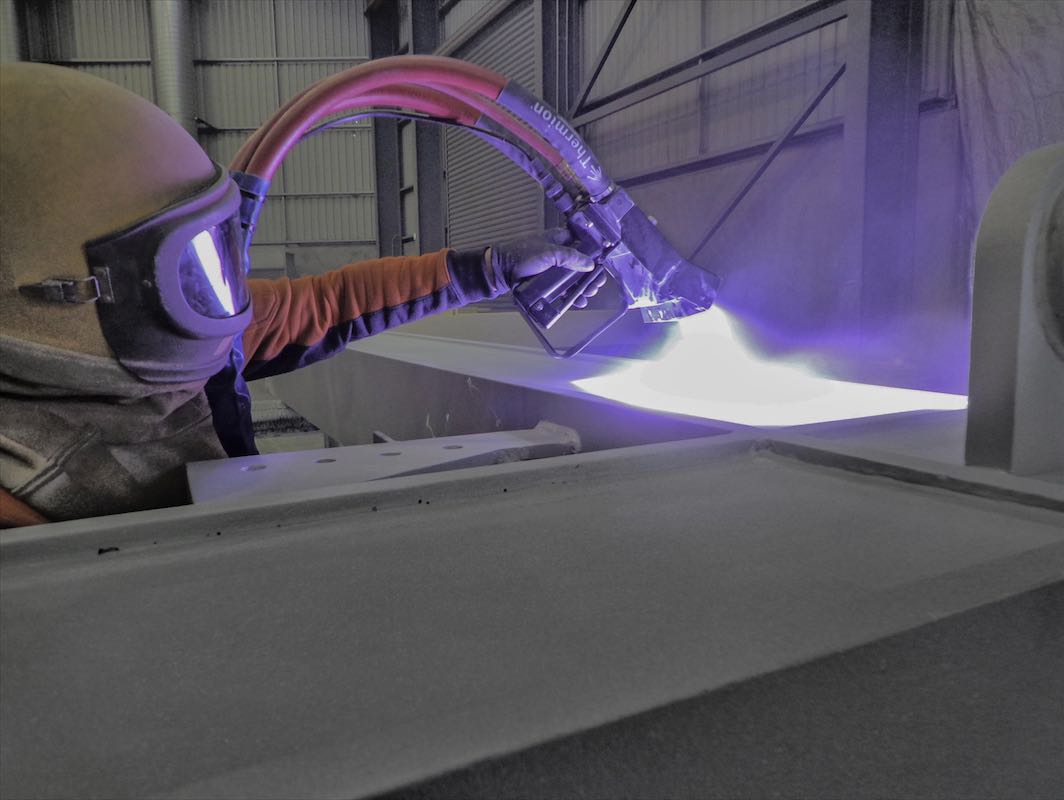 Flame and arc spraying are sub-methods of this technique, adding anti-corrosion layers and thermal barriers. Other benefits of metallic/thermal spraying include increased durability, wear resistance, modified electrical properties, and additional protection to damaged materials.
Sherardizing
Sherardizing is also known as vapor or dry galvanization, sherardizing is named after British metallurgist Sherard Osborn Cowper-Coles.
It involves heating steel products up to 932 degrees Fahrenheit in a closed rotating drum that contains metallic zinc dust and potentially an inert filler, such as sand.
At temperatures above 572 degrees Fahrenheit, the zinc dust evaporates and diffuses into the steel substrate forming a diffusion bond.
This method is ideal for small sheet metal parts and parts that require coating of inner surfaces, as the product must be smaller than the rotating drum.
A huge benefit to this sheet metal technique is that no hydrogen is involved. Therefore, hydrogen embrittlement (when steel becomes brittle due to the introduction and subsequent diffusion of hydrogen into the metal) is excluded.
Aluminum welding presents many more challenges than welding steel or other metals when learning how to weld aluminum. You can find out a guide to aluminum welding or how to weld pipes when they are must-have skills for anyone who takes their welding seriously.
What Are The Benefits Of Galvanized Sheet Metal?
Galvanized sheet metal is one of the most requested products from fabrication shops around the world. In fact, according to the American Galvanizers Association, the world produced more than 4.4 million tons of galvanized steel in 2016.
The most common industries are utility, agriculture, construction, bridge and highway, and recreation. These industries require a variety of sheet metal products, including "structurals, fasteners, tubing, pipe, wire, nails, reinforcing steel, weldments, complex fabrications, guardrail, and posts."
If so many companies want galvanized sheet metal, what's the big deal? Here are the benefits of this sheet metal product:
Galvanization costs less. When it comes to protective coatings for stainless steel, galvanization is one of the least expensive options because it's not as labor-intensive for a sheet metal fabrication shop. Even if the initial cost of galvanizing is quoted as more expensive than other protective coatings, this sheet metal technique is the best option for most contractor budgets because of its long-term investment. Unlike other options, galvanized sheet metal in structural members lasts about 50 years in rural environments and 20 to 25 years in severe urban and coastal exposure. Even with a long life expectancy, it requires little to no maintenance, repairs, and/or replacements.
No time is lost. Part of being a contractor is ensuring that a project remains on schedule and within budget. Galvanized steel allows you to do just that, because galvanized coatings are easily examined by eye, and non-destructive thickness testing methods are used. No time is lost in excessive testing. After examination, skip surface preparation, painting, or further inspection because galvanized structures are ready to go after direct assembly. Even after the product is assembled, contractors clean the structure only once annually with alkaline water and a soft cloth.
It's the toughest protective coating offered. Hot-dip galvanizing, the most popular form of galvanization, is the process of submerging metal parts in a bath of molten zinc to protect the metal. This protection occurs as the intact zinc coating prevents corrosive substances from reaching the underlying steel or iron. The zinc also acts as a sacrificial anode, which is the main component of a galvanic cathodic protection system used to protect buried or submerged metal from corrosion. This means that if the coating is scratched, the exposed steel or iron is protected by the remaining zinc. Lastly, the zinc protects its base metal by corroding before iron. This "unique metallurgical structure…gives outstanding resistance to mechanical damage in transport, erection, and service. Through every stage, every inch of the sheet metal product is protected, including recesses, sharp corners, and inaccessible areas. A full protective coating is applied within minutes and is independent of weather conditions unlike other coatings.
Galvanization is sustainable. If you're a contractor who's invested in eco-friendly construction practices, this sheet metal technique is what you're looking for. According to Whirlwind Steel Buildings & Components, a national manufacturer of pre-engineered metal buildings and metal building components in various markets, the galvanization process uses a molten zinc bath in which the zinc can be used over and over again…with a very minimal amount of waste. The durability and longevity of steel building components mean fewer resources will be used to repair and/or replace parts down the road.
I hope our article will give you a fundamental base from which you can achieve the latest knowledge about sheet metal fabrication field.